Selected from 198 submissions in ARCHITECT and AL's annual recognition program, these 28 luminaires and lighting technologies exemplify design excellence and versatility.
Meticulous conception and design, technical advancement, and versatility are commonalities among the 28 products shown below, selected from 198 entries in this year's ARCHITECTURAL LIGHTING + ARCHITECT Product Call.
Daylighting and Solar Controls
Commercial Integrated LED, Solatube International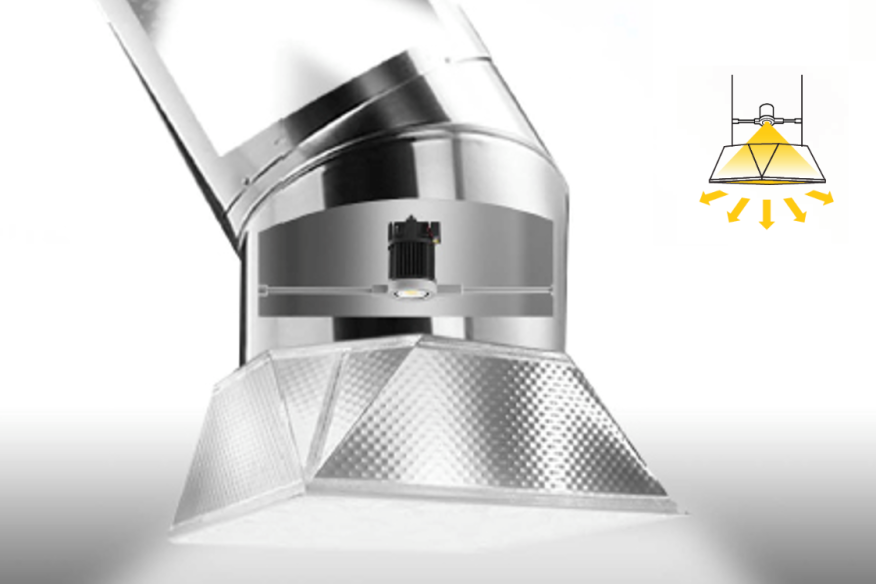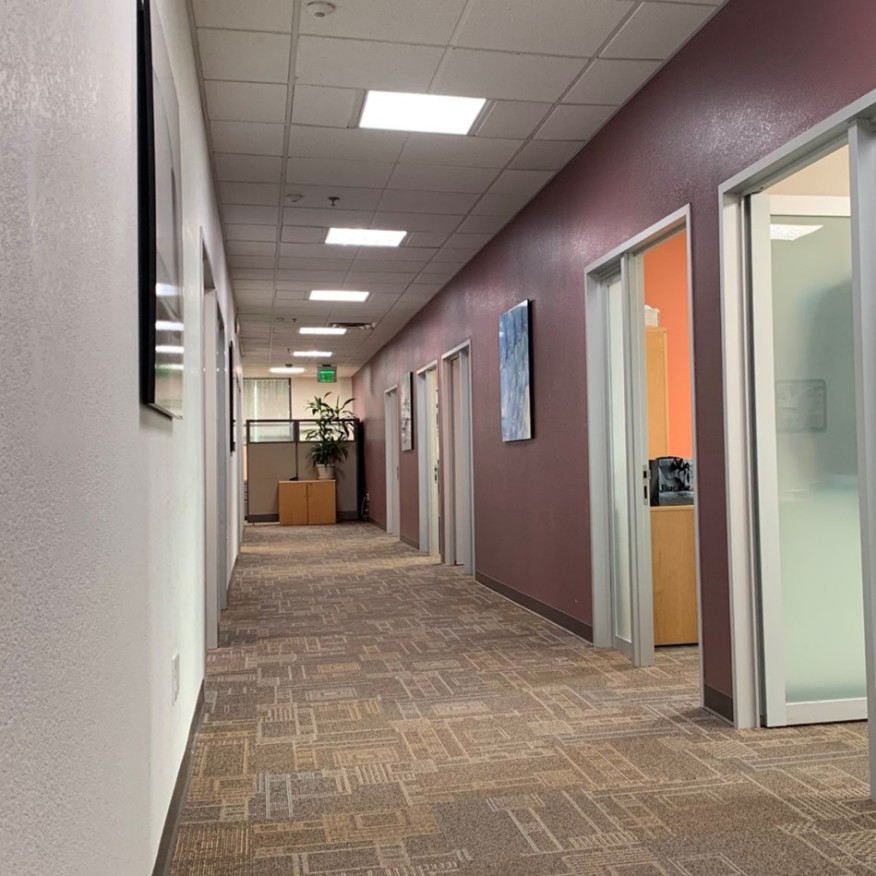 By delivering natural light via a tubular daylighting device along with electric light with an incorporated LED fixture, this hybrid, minimalist ceiling fixture transitions seamlessly from day to nighttime use. The LED can deliver 3,250 to 10,000 lumens at a color temperature of 4000K and color rendering index (CRI) of 80. Dimming functionality when paired with zero-to-10V dimming controls.
Decorative Lighting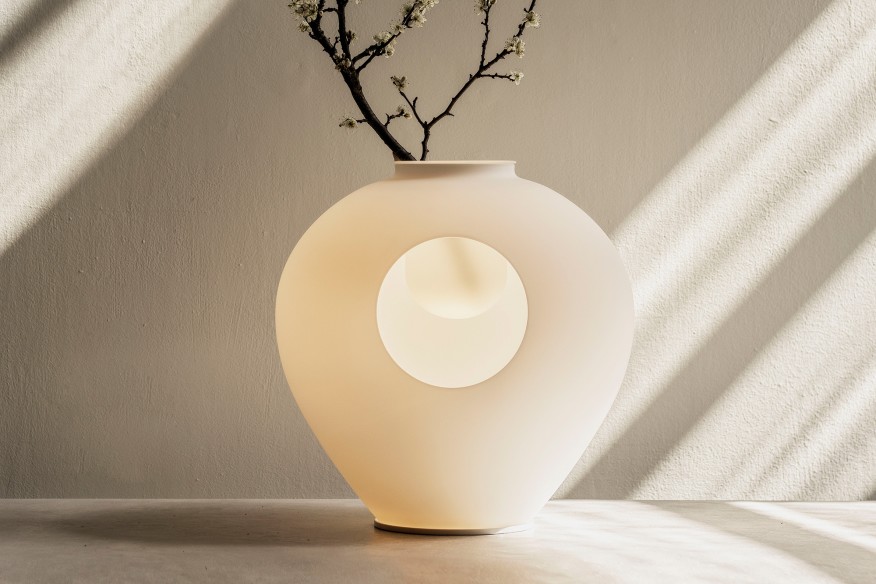 Madre was conceived as a poetic object with overtures to mythology, statuettes, the movement of heavenly bodies, and the alternation of day and night. "The form alludes to the shape of mother goddesses, the divinities that protect the fertility of the earth," according to designer Andrea Anastasio. "But also, the vessel as a container of life, because it was first created to contain food." The upper hollow of the luminous, 14 1/8"-tall, 13 3/4'' diameter body serves as a vase made of frosted borosilicate glass; the base conceals an LED light source. Heat-resistant glass protects living plants and vase contents. A center aperture reflects ambient light.
Echo One, LightArt
At once a light fixture and a statement piece, Echo One comprises 24 radiating fins made of 3form Sola Felt. Available in 15 stocked colors, the 9mm PET felt is made with 50% post-consumer recycled content and offers acoustic benefits, including an NRC rating exceeding 1.2. With a 51" or 63" in diameter, the 14"-tall LED luminaire offers a 3000K color temperature, a CRI of 80, and dimming capabilities.
Knit-Wit, Made by Hand
The traditional Chinese rice lamp and the craft of knitting served as inspiration for this family of lamps by Iskos-Berlin Design, in Copenhagen, Denmark. The fixtures are made using CNC-controlled 3D knitting technology, and by stretching their flame-retardant polyester shades over powder-coated aluminum rings. The texture distributes light through the yarn's pattern and makes each lamp one of a kind. The collection offers four sizes, from pendants to tabletop and floor fixtures, and in 12 colors, including soft neutrals, blushes, and earth tones.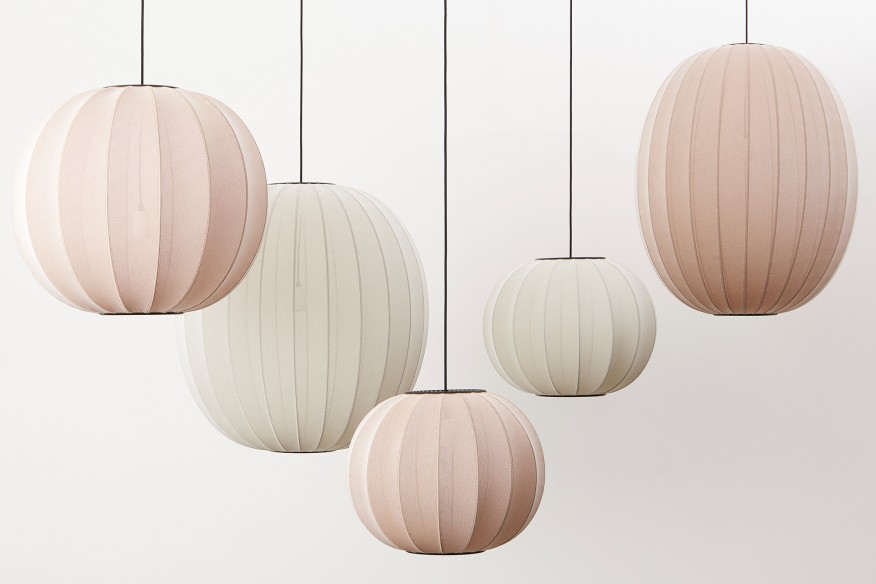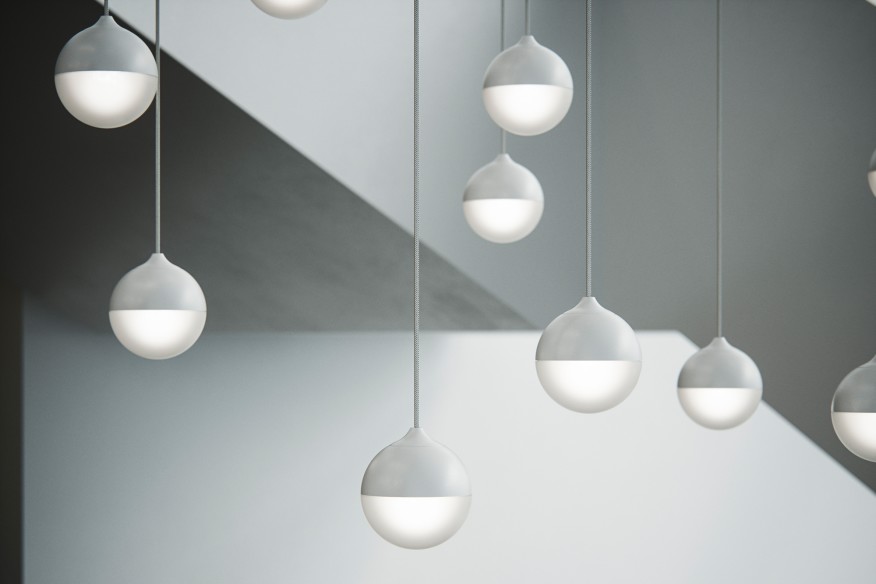 Glowball, OCL Architectural Lighting
This 4.5"-diameter pendant can hang alone or grouped together in large-scale installations. The spherical fixture features a die-cast, powder-coated or brushed aluminum body and a durable, injection-molded, silicone diffuser that resists scratching and cracking; it will also retain its shape if flexed or bent, easing both installation and maintenance. The result is a distinct inner glow surrounded by a diffused outer surface. Available with static white, tunable white, or RGBW light sources.
Carbon, Two Parts
Designed by Brooklyn, N.Y.–based founder Christo Logan, Carbon is a dimmable pendant that can create the effect of a graphene-like hexagonal sheet when grouped together. A clear acrylic shell houses a translucent polycarbonate diffuser. Tightly spaced LEDs with a CRI of 95 emit uniform light through the branchlike form. A single pendant measures 14.7" long by 12.8" wide and 2.6" tall; Carbon's compact ceiling canopy can support between one and seven fixtures in many arrangements. Rated for damp locations by Electronic Testing Location (ETL) and Restriction of Hazardous Substances (RoHS) compliant.
Direct / Indirect Lighting
Da Flayo, Archlit
This outdoor wall- or ceiling-mounted linear fixture angles at 15 degrees as standard, with custom angles and stem lengths possible. It consists of an aluminum LED tray sealed with black polycarbonate end caps and O-rings. A diffusion film smooths illumination from the LEDs. Runs can be achieved by sharing mounting canopies. The IP66K-rated fixture offers zero-to-10V dimming, a symmetric or asymmetric lighting distribution, and color temperatures of 2700K, 3000K, 3500K, and 4000K.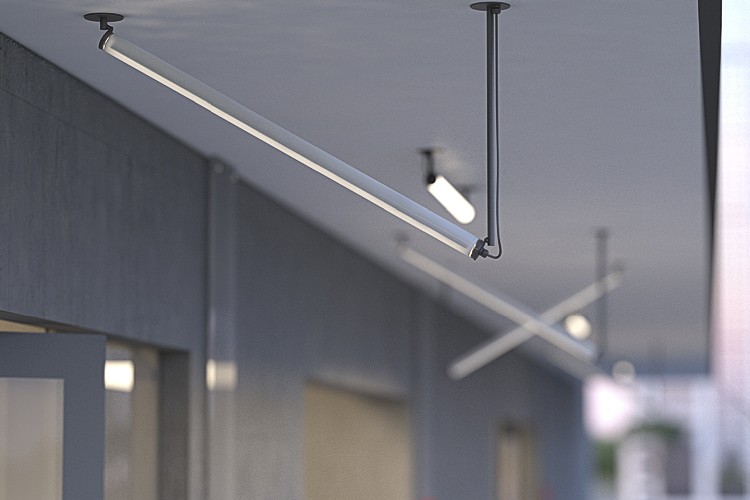 Profile Mini, Fluxwerx
At 2" tall and 2.3" wide, this diminutive linear LED pendant can be installed as a single fixture or as a continuous lighting system. It delivers more than 115 lumens per watt from a sub-11/2", hollowed aperture that creates a U-shaped cross-section. Available in 4'- to 24'-long runs and with an up-down lighting control option that provides fully dimmable or switchable control. End caps can be flat, bevel, capsule, or square; fixture finish options are clear anodized; powder-coated black, metallic silver, or white; and custom colors. Available in 3000K, 3500K, or 4000K with CRI of 80-plus.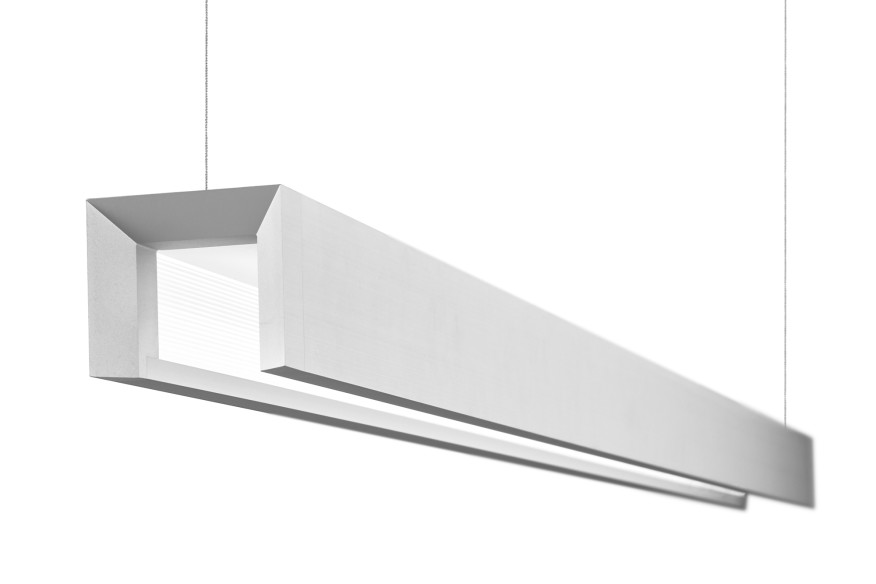 Space, Insight Lighting
This linear pendant separates the housing and diffuser, creating a unique detail that supplements its ambient downlight with an indirect light source. Available in white, tunable white, or RGBW LED outputs, the fixture can be controlled as a complete unit, or in independent 4" sections to create a motion of gradient light. Space can be installed as a single fixture, in continuous runs, or in custom shapes. Electrified suspension cables complete its clean look.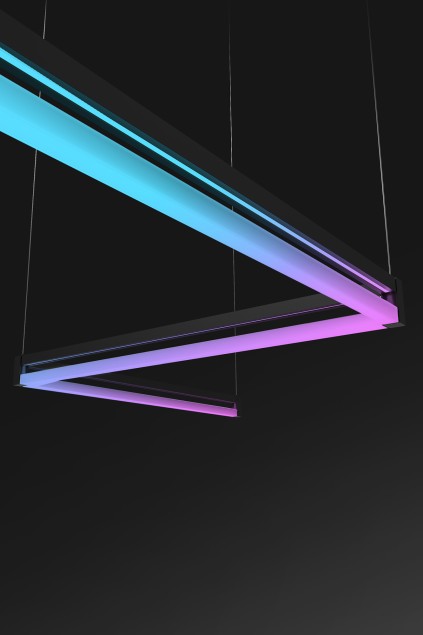 Downlights
Lumencore, Lumenpulse
This extensive family of LED downlights in 2¾" or 4" diameters can generate thousands of configurations. Options include fixed, adjustable, or wallwash, as well as a range of bezel depths, trims, optical distributions, and finishes. A spring-loaded core mechanism allows for on-site additions or swaps after initial installation. The dimmable line can be wired or controlled digitally using Lumenpulse's Lumentalk technology; it is also control agnostic. The Lumencore family includes products that are IP54, IP55, and UL Wet rated, as well as Title 24 compliant.
Smart 1.9, Modular Lighting Instruments
This collection of 1.9"-diameter downlights with 1½" apertures or smaller can deliver more than 300 lumens per fixture. Smart 1.9 can be combined with a square or rectangular finishing plate to form a recessed luminaire. Fixtures and plates, or masks, come in black, white, and gold. A single housing can hold one or two fixtures. Available in color temperatures of 2700K, 3000K, and 3500K, and with three diffusers options: frosted, solite, and clear glass.
Liteistry, Prescolite
This collection of architectural downlights includes round and square apertures with 3"-, 4"- and 6"- coverings, open wallwashers, adjustable accent lights, and cylinder formats. The fixtures feature 50-degree shielding of the source and source image. Anodized reflectors with identical trim construction provide consistent appearance and performance between different apertures. Liteistry also offers four different beam distributions, a wide range of lumen outputs, and 27 reflector finish and color combinations.
BeveLED Mini Cylinder, USAI Lighting
Available as a cable-suspended or solid-stem pendant, surface-mounted fixture, or wall washer, these architectural luminaires are housed in extruded aluminum with a 31/2"-round or -square profile, at 8" or 10" long. Delivering up to 2,025 lumens, the fixtures are available with USAI's proprietary dimming standard and tunable white LED technologies. Rated for use in damp and dry interior locations, and available in a range of standard powder-coated finishes, including white, black, bronze, and silver.
Industrial Lighting
SpectraClean, Hubbell Lighting
Combining a disinfection solution with a commercial lighting product, SpectraClean is a portfolio of troffers and vapor-tight and strip-light luminaires that combines white and narrowband 405nm light to provide continuous, unobtrusive, and chemical-free disinfection, according to the manufacturer. The line combines high-intensity narrow-spectrum (HINS) technology with integrated wireless control support to support four modes of operation for occupation and/or cleaning: blended, blended plus, independent, and dedicated. Available with multiple standard lumen packages.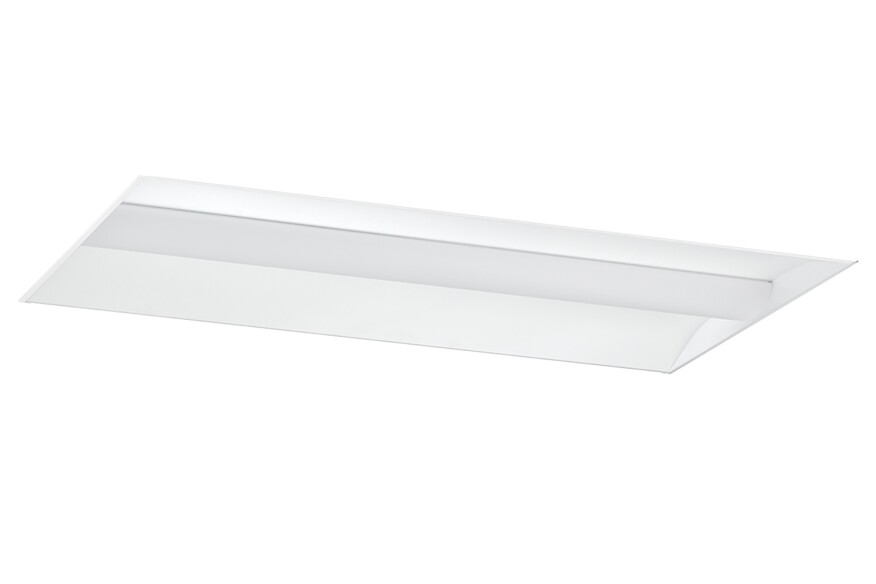 Lighting Controls and Systems
Enlighted One, Enlighted, Inc.
The capabilities of this out-of-the-box wireless lighting control system include daylight harvesting, task-tuning, and vacancy detection, resulting in energy savings of up to 65% with an LED retrofit. Lighting behavior can be programmed from the switch. An optional upgrade enables access to a suite of IoT applications, such as smart energy management, without modifying installed fixtures.
Purolinear 360, SONNEMAN–A Way of Light
This modular system comprises linear tubes of LEDs set within surface-mounted cylinder connectors that rotate 360 degrees to direct light. The direct/indirect luminaire can vary illumination across large and narrow planes, transition between wall and ceiling mounting, and be arranged in patterns or in straight runs. Available in 24", 36", and 48" lengths and in end, linear, corner, T, and X styles.
Outdoor Lighting
Cliff, Eureka Lighting
This wall-mounted luminaire can be installed angling upward or downward, and in a single- or dual-light direction. Manufactured with an aluminum housing and sealed integrated driver, Cliff is IP65 and UL Wet rated. With a depth less than 4", it also supports ADA-compliant environments. Offered in 3000K, 3500K, or 4000K, and in a textured black or white finish. Phase dimming and zero-to-10V dimming are available.
Light Column RGBW Bollard, Forms+Surfaces
These bollards offer programmable color that can be customized, animated, and switched to dynamic white to support site-specific projects and activities; daisy-chained fixtures can be controlled simultaneously. An optional powder-coat finish on the stainless-steel profile offers branding and wayfinding opportunities. Uses a programmable DMX512 protocol and Cree RGBW LED chips for numerous color options.
PGL8, Kim Lighting
This low-profile parking garage luminaire is the first drop lens, edge-lit luminaire to offer 200 to 600 lumens of uplight with no additional wattage needed for visual comfort and optimal performance, according to the manufacturer. The IP66-rated, 16"-diameter fixture features four distribution types, including a Type V square distribution for maximum luminaire spacing and uniformity. Available with integral battery backup, UL924 bypass options, and a variety of control solutions.
Motive, Landscape Forms
The Motive family of cast aluminum, outdoor fixtures includes area lights, a path light, a wall-mounted light, a pendant light, and a floor lamp. The fixtures employ a hidden light source with a 2700K, 3000K, 3500K, or 4000K color temperature and minimum CRI of 80. With clear or diffused lenses, up to three distribution patterns, and numerous powder-coated color finishes. landscapeforms.com
Specialty Lighting
20 Perimeter, Inter-lux/Whitegoods
Part of 20+, a group of profiles and accessories that expands the 20 Linear range, the 20 Perimeter is a 1"-wide extruded aluminum profile that recesses into the ceiling-and-wall intersection to create a perimeter glow or a full graze. Its housing can be manufactured in any length and shipped from stock. Available with flush or regressed optics, a lens diffuser, and a 45-degree louver for glare control or a 20-degree narrow lens for beam control.